14 days return period
•
Designed and sewn in Poland
•
Shipping in 1-3 working days
•
Free delivery over 169 zł
Dresses for Wedding
A wedding is a special event not only for the bride and groom, but also for the guests. It is a time to celebrate the love of the bride and groom, as well as to have fun together... read more It is worth taking care of the right outfit for this celebration - if you want to bet on timeless styles or the most popular trends, you are in the right place! In the Kulunove store you will find proposals that vary in color, cut or length, which will allow you to look perfect on this day.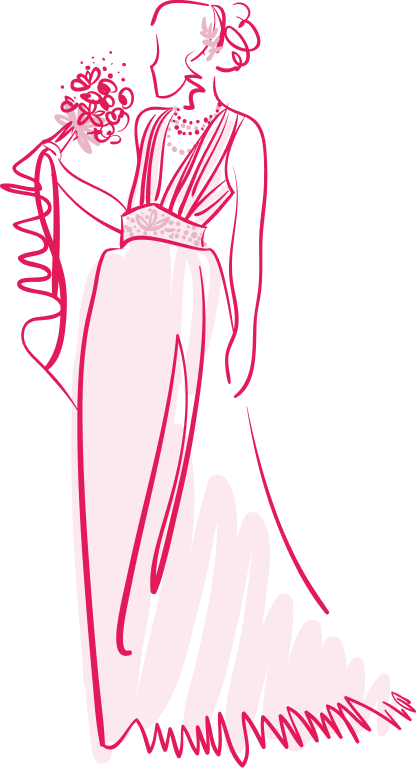 Dresses for the wedding - how to find the perfect creation?
Choosing a dress for the wedding is a demanding activity, in which you should take into account many factors. Among other things, the time of year in which the ceremony will be held will be important.
In the middle of summer, for example, floral patterns will be a great choice, while for a reception in the colder months it is worth thinking about a dress with shiny accessories. An equally important consideration is the location. If the event is held in a hotel or palace, wedding dresses for elegant and classic creations will be ideal. Outside, for example, during a garden ceremony, boho style will be an excellent choice.... read more
Beautiful wedding dresses for bridesmaids
The bride is the most important woman at the wedding and reception, but the role of bridesmaids should not be overlooked either. If you have just this honorable function, it is worth paying attention to the creation chosen by the main character of the day. For example, an interesting option will be a dress with a similar style to the wedding dress chosen by the bride, but in a more subtle version and kept in a different color. Pastels are a common choice, as well as matching the styling of each bridesmaid in terms of color.
Both the bride's wedding dress and the bridesmaid dresses should look amazing and match the style of this special celebration. It is worth betting on a model that will emphasize your beauty and figure - this way you will present yourself from the best side at the reception, and the wedding photographs will be an unforgettable souvenir.
Unique dresses for the wedding in timeless colors
The creations for the occasion should be elegant and sensual, and at the same time give a sense of comfort - after all, this is a party that usually lasts until the morning. In terms of style, issues such as cutouts, length and color of the dress for the wedding count. Bottle green is a fashionable option that can, for example, effectively slim the figure or look exceptional with gold accessories. Thanks to the subdued hue, such styling will still look beautiful, and the classic color can be efficiently combined with an extravagant cut or distinctive inserts.
Both black and navy blue wedding dresses are classic solutions that add character. Dresses in these colors are extremely elegant - what's more, they match accessories in many color variations. If you are a woman who likes to stand out, these will be truly unique colors for a wedding. With such styling, you will definitely stand out from the rest of the guests - it's a bold choice that is much rarer than classic, subdued colors, but with the right beauty and accessories can provide an amazing effect.
Red wedding dresses - highlight your femininity in perfect style
Dresses for wedding red perfectly suit confident women who want to present all the qualities of their beauty in a decisive way. A creation in this color perfectly emphasizes the silhouette, especially when combined with a large neckline, an open back or a leg opening. This is a very bold color, which in combination with classic accessories will come out really sensational.
Pastels and beige - wedding dresses for women who opt for delicacy
Material in pastel pink, purple, blue or beige with sequin inserts or original ties on the back or shoulders is also an extremely good idea. These types of dresses can be accentuated with strong accessories and distinctive shoes. Fashionable wedding dresses in pastel colors are subtle creations that will work well not only at the wedding party, but also on many other occasions.
Darker, subdued and elegant dresses for a wedding
The most beautiful dresses for a wedding can also be found in dark colors. Evening dresses will add charm and class to any woman, and black or navy blue are perfect for later hours. It is worth remembering to adjust the color of the outfit to your tastes and character - in the Kulunove offer you will find numerous proposals in almost any color, which will help you look your best at any wedding party.
Dresses for the wedding - short or long?
With us you can also count on a considerable choice in terms of cut and length. Short dresses for the wedding will be an excellent idea for the summer - such creations allow you to emphasize your legs and present classic stilettos or fashionable heeled sandals. They are comfortable and do not restrict movement, so they are perfect for women who love to dance.
Mini wedding dresses can work sensationally at a wedding reception, effectively accentuating the greatest assets of your figure. You also have quite a lot of freedom in terms of cut - you can choose, for example, satin material or longer three-quarter sleeves to add elegance and chic to the styling. An evening proposal in the style of a little black dress will be an ideal option for a formal party. In many cases, a mid-length will also be a suitable option, which perfectly combines with the cut of the lampshade. The bloused midi dresses for a wedding sewn on a wide or double circle will look amazing, especially when dancing.
Classic maxi cut dresses for a wedding
Many women opt for classic dresses for a wedding, which definitely include maxi dresses for a wedding. They are a versatile choice, which can be opted for both in summer and winter. In addition, they are extremely comfortable, plus they are not as demanding in terms of figure or accessories as some of the other proposals. With such a creation, you can dispense with high-heeled shoes to bet on comfortable sandals or ballerinas. Such footwear will beautifully complement the dress or "hide" behind it, giving you a chance to dance the whole night without any problems.
Long wedding dresses are a good choice for tall women who want to dispense with stilettos. They will look great with most shoes. In addition, this length can effectively slenderize the figure. This is a matter that should be tailored precisely to your figure, as well as your beauty and character. A wedding is a day when you should take care of all the details.
In the assortment of Kulunove store you will find affordable dresses for wedding at any length. Check out our offer today to prepare a unique styling for the wedding of your loved one.
Beautiful, classic and affordable dresses for a wedding - Kulunove online store
Dresses for a wedding in our offer are made of high-quality materials - delicate satin, tulle, stretch chiffon or suede. All of them are created with complete care; moreover, we draw on our love of fashion in every aspect of our business. As a result, every customer can count on unique style paired with complete comfort and access to a range of interesting options for any occasion. If you are interested in dresses for a wedding at affordable prices, check out the discounts available on our website - it's a good way to save without sacrificing quality and style.
Our assortment includes a number of exclusive and beautiful dresses for a wedding that fit perfectly on the body. Here you will also find bloused, airy dresses for the wedding, which are characterized by comfort and freshness. In addition, you can count on a full choice in terms of patterns - for example, if you are looking for proposals for a wedding taking place in summer or spring, you can bet on styles in which the main role is played by floral motifs. You will also buy from us wonderful dresses for a wedding in beautiful, girly colors, such as pink.
Summer dresses for wedding with flower motifs
In the Kulunove store you can buy, among other things, typical summer wedding dresses in ethnic or floral designs, for example, with a motif of orange peonies or pink lilies. There is also no shortage of summer colors - fuchsia, heather, blue, nude, ecru or powder pink. In addition, you will find dresses with striking side slits, leg openings or ties on the back.
Loose wedding dresses are a fashionable and comfortable solution for all women. With us you can easily prepare the perfect styling! Check out the solutions available on Kulunove - whether you are interested in models with cleavage or richly decorated fabrics, we are sure to meet your expectations.
Check out the most exclusive dresses for the wedding
Sophisticated models with asymmetrical, trapezoidal or pencil cut, or tight mermaid-shaped wedding dresses with sexy creases or overlapping necklines - such styles will highlight your figure in an original way. As a result, it will be an extremely interesting choice for a wedding. However, if you prefer subtlety and minimalism, bet on simple, classic dresses for a wedding. You can count on a wide choice in terms of colors, so you can efficiently match the creation to your skin and accessories.
A great choice will also be more sophisticated and exclusive models - for example, mermaid dresses, with a train or original Spanish off-the-shoulder dresses with flared sleeves. To emphasize the shoulders, you can opt for a classic one-shoulder dress or a dress with falling sleeves. Long sleeve dresses are characterized by a very elegant style, especially for proposals with muted colors. They can be worn for both summer and winter parties, with the addition of a jacket or fur coat.
Dresses for a wedding - what to choose? At Kulunove you are sure to find something for you!
A wedding is a special celebration, which often lasts all night - so it is worthwhile to ensure comfortable styling, which will be perfectly matched for your figure and beauty. You can also opt for two creations: one for the beginning of the party, and the other for the evening part of the reception. A good choice will be contrasting options - for example, a maxi dress in a subdued color, and later a short, fitted, shiny and expressive creation. In the Kulunove store you will find numerous elegant dresses for the wedding, which will allow you to look your best.
Which dress to choose for a wedding? This is a decision that depends on many factors - what matters most is your idea of how you want to look. In doing so, you can not ignore issues such as your figure, which determines to a large extent which cuts will work best. In terms of color, you can go for classic colors, subdued colors or the most striking shades that will enhance your femininity. If you want to go for a more daring styling, bet on extravagant cutouts and original inserts. There are really a lot of possibilities - you can realize all ideas for wedding styling with the Kulunove store. Take a look at the dresses for wedding available with us!