Pink dresses
Are you looking for a colourful, summery and fashionable dress in which to look extremely feminine? You will find plenty of trendy green, blue, red, maroon and.. read more even pink models in the Kulunove online shop. The pink dresses in particular are worth noting, as they will give many of our customers a distinctive look in their wardrobe. We offer not only pink dresses for weddings, but also cocktail dresses, dresses for bridesmaids and the most beautiful evening dresses and even everyday dresses. Do you love the colour pink? Then be sure to check out our collection and see what we have in store for you. Perhaps you will find a model that will make you look exclusive and fashionable!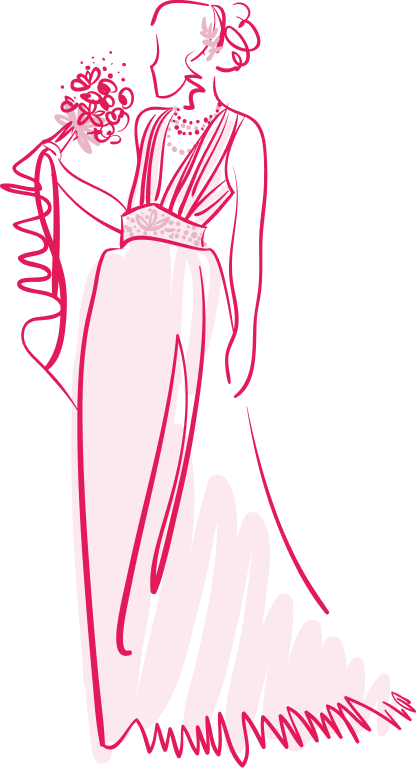 Pink dresses, a trend dedicated to women of all ages
It may seem that pink clothes are only for little girls, possibly teenage girls. After all, for many years certain tones of this colour were reserved only for them. Today, however, the situation has changed dramatically. Pink as a very fashionable colour is no longer linked to the age at which it should be worn, and pink dresses are also dedicated to mature women, which will certainly please consumers who love this particular colour. In fact, the fact that pink alludes to girlishness should be considered an advantage. Hairstyles in this tone can even contribute to visually subtracting years. So if you want to look fresh and young, don't hesitate and opt for pink dresses. Outfits in which lighter pink models play a starring role look extremely elegant and light.... read more
Pink dresses - not just for women with light hair
What else makes pink dresses stand out? Among other things, they are very energetic and, most importantly, do not go unnoticed - especially when it comes to creations in stronger shades of pink. Fuchsia, for example, can be expressive, but also comes in an extremely subtle form, in a shade of dirty pink or powder pink. In this way, a pink dress for a wedding can suit all types of female beauty, and can even accentuate a woman's assets. For this to happen, however, the shade of pink needs to be matched to the skin and hair colour.
Fashions that emphasise your figure's assets
What are the most beautiful pink dresses available in our collection? Above all, they are diverse, so that each of our customers can easily find a model that fits her expectations and taste. For ladies who are looking for a dress for formal events, we offer, among others, long, shoulder-revealing dresses with straps, Spanish necklines or a padded bodice. The bottom of these models can be very fitted or have a deep cut-out. However, if you prefer pink midi dresses, you will also find them in the available range. Among others, look for the minimalist version with long, bouffant sleeves and a boat neckline. Or maybe instead of a fitted top, you prefer a butterfly top and pencil bottom? For our customers, there is also a shimmering satin strapless gown with an asymmetrical bottom, and next to it a satin tied model in fuchsia, revealing the back. Creations with overlap necklines are also very popular at the moment and are also available in our range. And if you're in the mood for summer, there are bright pink floral dresses that are perfect for everyday wear. The choice is huge!
Create unconventional looks with pink dresses
It may seem like it is extremely difficult to choose accessories to fully coordinate with pink creations. However, it is actually a very simple task.All you need to do is follow a few important rules. Pink dresses for a wedding do not look good in the company of other strong colours. So it's best to consider the safe option of accents in neutral tones such as white, black and grey.Beige will also prove to be a good choice. Remember to choose accessories in one colour. Moderation is advisable in this case. Pink dresses can be combined with beige stilettos and a handbag of the same colour, for example. How about a dress in strong pink plus white accessories?If you love to draw attention to yourself, a set like this will certainly appeal to you.Also worth mentioning is the pink total styling which will surprise all guests. In addition to wedding dresses, we also offer wedding dresses for brides. Take advantage of our attractive offer and choose an attractively priced model.