Wedding dresses letter A
"A" wedding dresses dominated the market for this type of creation many years ago. Without a doubt, even now they are one of the most popular.. read more types of styling for a wedding. Models of this type are, in a sense, a lighter and more modest alternative to flared princesses, which can also be found in our store. The biggest advantage of such a cut is the possibility of a seamless fit for any type of figure - when it comes to wedding dresses, the letter "A" will work well for both petite brides and plus sizes. If you are looking for a fashionable and beautiful-looking proposal of this type, be sure to explore the offer of the Kulunove store!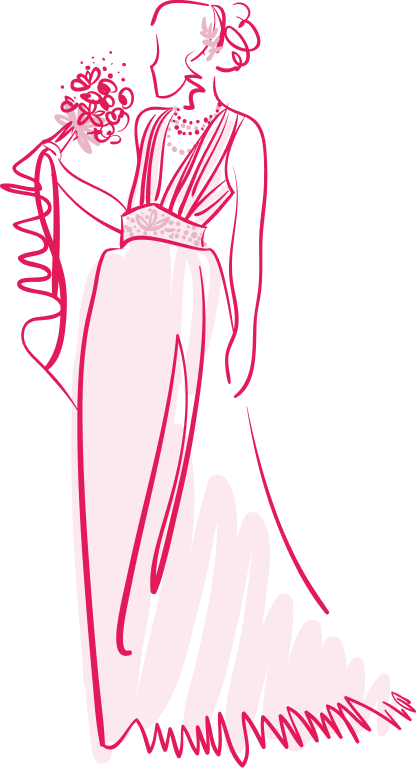 Wedding dresses in the letter "A" - characteristics.
What distinguishes this type of wedding dresses? The cut of the letter "A" is primarily a fitted top, the purpose of which is to emphasize the bust and possibly conceal extra pounds, as well as a flared bottom, designed to subtly lengthen the legs, but to a lesser extent than in the case of a princess dress. You can opt for stylish accessories in the form of sparkling crystals on the bodice or skirt, and choose a romantic leg slit. "A" letter wedding dresses are ideal for brides who are looking for an exclusive, fashionable creation in which they will present themselves with class.... read more
Wedding dress letter "A" - for whom?
What else makes it worth betting on such wedding dresses? Letter "A", long sleeve or short sleeve, quite a lot of possibilities to adjust the details of the cut - such a combination makes the models in this category will look great on any figure. This is an extremely versatile cut, which can both emphasize the assets of the figure and conceal unwanted kilos. However, wedding dresses in the letter "A" will work best for brides with the figure of the so-called pear. Such a model will well expose small shoulders and bust, while covering up the lower parts of the body.
Wedding dresses letter "A" will meet the expectations of all women who dream of a phenomenal and impressive creation, but do not find themselves in the cut of a typical princess. Elegant wedding dress "A" will even out the disproportionate shapes of the figure, and the clear cut of the waist will add charm. It is also worth noting other features that a wedding dress letter "A" can have - a long sleeve, for example, will be an ideal choice on a cooler autumn day.
Wedding dresses in letter "A" in Kulunove
Opt for a stunning wedding dress in the letter "A" from the Kulunove store! In our offer you will find many models of this cut - with long sleeves, with a leg slit or with a decorative bodice. You will also buy from us stylish accessories or the perfect dress for the reception. Check out our offer!