14 days return period
•
Designed and sewn in Poland
•
Shipping in 1-3 working days
•
Free delivery over 169 zł
Dresses for a bachelorette party
Is your bachelorette party coming up or are you invited to such an event as a friend of the bride-to-be? You're about to have a champagne party that will leave you with lots of great memories! However, if you want.. read more to have a really good time at your bachelorette party, make sure you have a comfortable and unique outfit. In our Kulunove online boutique you will find exclusive, fashionable dresses for the bachelorette party. We are convinced that you will find the right creation in which you will feel feminine and at the same time be able to party until dawn without restraint. In our collection you will find not only dresses for the bachelorette party for invited friends, but also for the bride-to-be or her witnesses.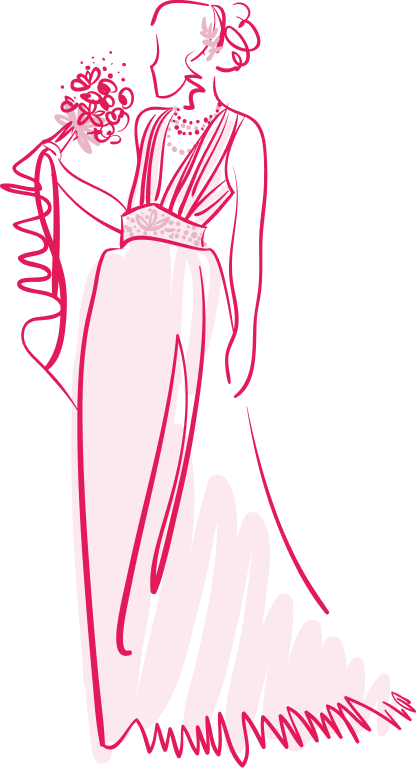 Dresses for the bride-to-be for the bachelorette party
The most important person at the hen night is, of course, the bride-to-be. The bachelorette party is her celebration, during which, according to tradition, she celebrates her last days of freedom before marriage. Therefore, when getting ready for her hen night, the bride's dresses should stand out strongly. Usually, the bride-to-be wears a special sash and crown. However, it's worth ensuring that she impresses without these accessories as well. If you are wondering which dresses are best for the bachelorette party, a sequinned outfit is the perfect choice, as it will sparkle from afar. In addition, the most beautiful bachelorette party dresses with an open back or shoulders will also be perfect.... read more
Dresses for bridesmaids for the bachelorette party
The role of the witness is one of the most important. She is the right hand of the married woman-to-be, who, by the way, is most often responsible for the preparation of the hen night. Therefore, as a future witness, you should know what colour dresses for the hen night will be best. Ask your friend or sister, so that you, as the organiser of the crazy evening, can take care of every detail. In addition, your outfit should certainly accentuate your beauty type. Dresses that have a bit of a disco feel to them will work well for a bachelorette party, as the party is usually held in a club. A great choice would be a mini or midi dress, but one that stands out for its extravagance.
What dresses should you choose for your bachelorette party?
Have you received an invitation to a girls' night out from your friend? You probably want to find out what dresses will be best so that you not only have a great time, but also feel extra feminine. It's a good idea to work out in advance what kind of character you want your bachelorette party to have. If you're planning to go out to a club, then a glittery mini dress will be perfect. If you're going out to a restaurant, you'll want to wear a more formal outfit. In this case, a long, flowy dress with a full leg opening will be perfect. And if you're wondering what to wear to a garden party, boho dresses will be perfect.
Classics or extravagance - which dresses are best for a girls' night out?
Another dilemma that very often arises before a bachelorette party is whether it is better to opt for a classic outfit or go wild with extravagant dresses? Certainly a black dress for the bachelorette party will be the classic look. However, even a little black dress can uniquely accentuate your feminine assets and become a styling full of sex appeal. Classic dresses don't have to be boring - you can find out by browsing the latest collection in the Kulunove online boutique.
Choose the perfect dresses for your wedding
As you're getting ready for your bachelorette party, the next occasion for which you'll be able to wear a unique creation will be the wedding. Of course, if you are a bride-to-be, you will be interested in wedding dresses. You will also find amazing suggestions in our online store. As a result, you will look otherworldly at your wedding. However, if you want to find out which dresses will turn out to be the best for your wedding, you will find plenty of suggestions for evening creations in our shop. It's not a well-known fact that dresses for a wedding should be exquisite and stand out. That's why it's a good idea to go for brocade, tulle, maxi length or a deep neckline. Wondering where to order dresses for your wedding without worrying about their quality? An irreplaceable place with fashionable and elegant creations is the Kulunove boutique.
What dresses to wear to a girls' night out?
A bachelorette party is the perfect opportunity to have fun with your girlfriends, celebrating your last "days of freedom". It is usually a very relaxed and spontaneous event, so the dresses for the occasion should stand out with the same characteristics. Dresses with sequins, deep necklines or knee-lengths are great. You can also opt for classic black or white with added sparkle or tulle sleeves.
What to wear to your hen night?
What you wear to a girls' night out will largely depend on the nature of the event. However, most often such occasions are celebrated in clubs during all-night discos. That's why dresses that perfectly accentuate such an atmosphere will work well. You don't have to rely on formality, but make sure your creation shines and stands out. If you are planning your bachelorette party, all the more reason why your dresses should indicate your role during this champagne party.