Wedding veils
Every bride-to-be dreams of looking like a real princess on the most important day of her life. That is why every detail is important, read more, which will perfectly match your chosen wedding dress. An element that is not only considered traditional, but.. read more at the same time emphasises the beauty and delicacy of the wedding styling, is the veil. See which wedding veil models we have prepared especially for you. Their exceptional variety will allow you to match the perfect veil to you and your dress. We encourage you to check out all the models so that you can confidently imagine yourself on your wedding cake. We are sure that your heart will tell you in which veil you will feel the most beautiful, and you will fulfil your dream of being a bride in every way.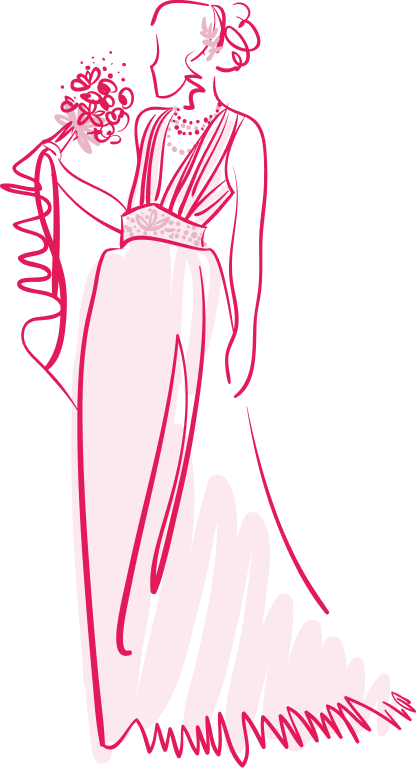 Match the length of your wedding veil to your dress
In our store you will have no problem finding the wedding veil of your dreams. Our collection includes both long and short wedding veils. That is why you will be able to match the length of the veil perfectly to your planned outfit. Among the short veils you will find those whose length does not usually exceed 1 metre. They are extremely comfortable, but also provide a traditional look that befits every bride. However, if you are dreaming of a more romantic look, then a long veil will prove to be a unique wedding accessory. They are made from a beautiful veil that will flow perfectly around your body while acting like a train. Long veils look great during the wedding ceremony and will also guarantee unforgettable shots during an outdoor session.... read more
Wedding veils in unique cuts
Once you have decided whether you want to wear a short or long veil, it is still worthwhile to match the cut, the embellishments and also the shade. Among the models we offer you will find veils whose material reaches up to the same height, but also those that cascade down the back in different lengths after being pinned. In our offer you will find plain veils, veils trimmed with beautiful beads, covered with sparkling crystals, as well as veils finished with elegant lace. Choosing a veil from the models available in our store, you will not have the slightest problem with matching their shades to the colour of your wedding dress. Therefore you can order a veil in snow white, but also in the shade of cream, écru or ivory.
Get all your wedding accessories in one place
Wedding veils are not the only accessories we have in our online store kulunove.eu. It is with us that you can complete all your wedding accessories, distinguished by their extraordinary elegance, as well as attention to precise finishing in every detail. If you are still looking for other accessories, we encourage you to take a look at our collection of romantic wedding dress covers or garters designed to bring luck and prosperity in marriage. Of course, our range is not limited to bridal fashion. Our collections also include phenomenal dresses for weddings, as well as dresses for proms. If you are looking for a dress for your bridesmaid, you will find the perfect creation in the kulunove.eu store, which will perfectly match your wedding concept. After all, it is your day and your future husband's day. That's why it's worth reaching for your dreams. And our online store kulunove.eu will effectively help you to do so