Mermaid wedding dresses
Mermaid wedding dresses, also known as "fishtail", have for years invariably been regarded as extremely elegant and stylish proposals for brides. Above all, it is a cut that effectively emphasizes.. read more the feminine assets, firmly framing the silhouette. It will therefore be the perfect choice for women looking for a bold, sensual creation. If you are looking for a dream wedding dress of this type, visit the Kulunove online store and choose a styling tailored to your character!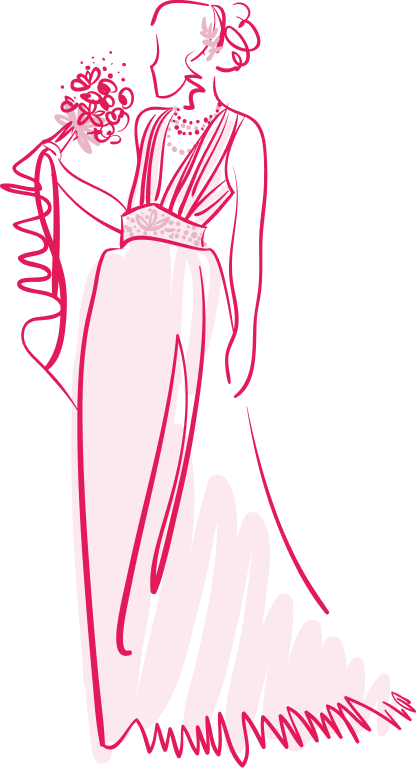 What are the distinctive features of mermaid wedding dresses?
Mermaid cut wedding dresses are characterized by a tight-fitting cut. They have a fairly tight top to the bust and waist, while the bottom part is fitted to the hips - the material only widens in the middle of the thighs or above the knees.However, there is a rule that the flare should start only about 15 centimeters below the widest point in the hips. This will make the whole look fully elegant, and in addition, the dress will not restrict movement.... read more
To what figure do mermaid wedding dresses fit?
There is a common misconception that mermaid cut gowns should be worn only by women with a perfect figure. Although brides with perfect figures will look just perfect in this cut, nothing prevents you from indulging in a daring mermaid cut in other situations as well. Wedding dresses with a fishtail cut can have a number of modifications that will help hide any deficiencies of the figure - for example, buff sleeves, a fitted waist or shiny material.
You can bet on mermaid wedding dresses made of lace or ornate material set with stones or glittering beads. Mermaid wedding dresses with a train will be a guarantee of class and elegance. This will make you feel like a real star, in turn, when you need more leeway - for example, during a dance - you can safely unfasten the decorative train.
Mermaid wedding dresses in Kulunove
You will find numerous attractive and simple mermaid wedding dresses - lace is a common element in our models, but you can also bet on other options. In the colder months, a long-sleeved mermaid wedding dress will be perfect. A mermaid wedding dress with a detachable train, which will allow you to turn a slightly flared, longer skirt into a classic mermaid dress, can also be a great option. Match your dress with stylish accessories - with us you can also choose an unusual dress as a gift for your mother or friend for that special day. There o possibilities are many! Lace mermaid wedding dress, smooth mermaid wedding dress or long sleeve mermaid wedding dress - you will find it all in Kulunove store.