Dresses for champagne breakfast
An after-wedding party is a time when we have the opportunity to get together the day after the wedding. More often than not, the reception has a looser feel than the wedding. But further dancing and celebrating are not excluded. That's why it's worth finding out what dresses for the amendments will work best. After all, the choice of a particular cut and colour will depend very much on the nature of the amendments... read more It's therefore a good idea to find out a little in advance what we can expect at the mending party. In our Kulunove online boutique, you will find unique proposals that include the most beautiful dresses for the wedding reception. These are the ones that will accentuate your figure and also make you feel comfortable.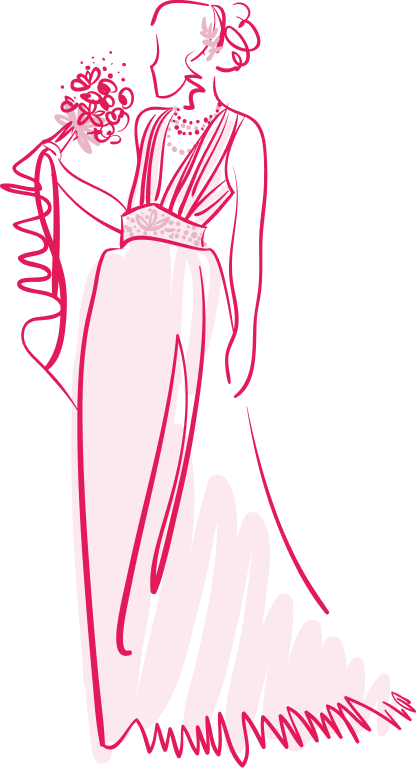 What dresses should you choose to wear as a guest at a wedding?
Have you received an invitation to your wedding and are faced with the dilemma of what dresses to choose for the reception? You're wondering what dresses will be most appropriate for your guest for the reception. If you know that the reception will have a slightly looser feel to it, then less formal dresses will certainly work perfectly. Dresses with an envelope neckline are an excellent choice. It is also a good idea to choose creations with a flowy bottom. A midi dress is the best choice in this situation. However, if the reception continues with a lavish party, opt for a fitted dress with an open back or a beautiful brocade creation. Such dresses are perfect for formal evening outings.... read more
What outfit should I choose for my mum's bridal shower?
The mother of the bride should stand out from the guests. When choosing the perfect bridal party dresses for mum, go for comfort and elegance. Maxi dresses with a loose hem work well. In such a dress, the mother of the bride should feel really good and at the same time not get lost in the crowd of other guests. It's also worth opting for a bit of craziness or extravagance, which will make the mother of the bride feel even more special at the wedding reception.
Best bridal dresses for witnesses
The person besides the bride herself who stands out from all the guests is the witness. She is the one who accompanies the bride in everything, supports her and is also responsible for many different tasks. For this reason, it is advisable that the dresses for the bridal party for the witnesses are first and foremost comfortable, but also we must not forget her unique appearance. A dress that stands out with a slightly shorter length will be a great idea. In addition, a maxi dress with a full-length bottom opening would be an interesting option. In this way, as a witness, you will not only maintain freedom of movement but also emphasise your sex appeal.
Unique dresses for the bride's bridal party
Are you a bride-to-be and wondering what you should wear to your bridal shower? In our online boutique Kulunove you will find unique collections that include not only dresses for the bride's getup, but also wedding dresses. This way, you can order dresses in one place that are perfect for your wedding ceremony, but also for the aforementioned amendments.
Think about whether you still want to emphasise your role as a bride at the reception by wearing a white dress, but with a less formal cut. Or would you feel much more comfortable in an evening dress that also stands out against the styling of your guests? With us, you're sure to find the exclusive and most beautiful dresses for your bridal party that will meet your expectations. You can choose from maxi dresses to unique knee-length creations.
A selection of dresses for the prom in a variety of settings
The character of a garden party can vary. Therefore, a dress for a garden party, which will have a much looser character, and a dress for a party in an elegant restaurant should be different. For such exclusive receptions, the dresses should have an evening character. In our Kulunove online boutique, you will find fashionable dresses for weddings and amendments, which you can successfully match to the circumstances as well as the prevailing weather. For example, a wedding reception in the heat of summer is much better spent in a summer outfit that is airy and does not restrict your movements. After all, it's not just about phenomenal styling, it's also about having fun.
What kind of dresses to wear to a bridal shower?
A mending party is usually a less formal gathering, so often not as formal an outfit is expected. Your dresses for a bridal shower should be appropriate to the occasion. Summer maxi dresses, flared midi dresses with a tulle bottom or fitted creations are all great. However, it's worth choosing a completely different dress from the one you wore to the wedding. At the Kulunove online boutique, you are sure to find the creation of your dreams that meets your expectations.
Is it OK to go in a white dresses for a bridal shower?
This question comes up very often from both guests and brides. As far as the bride is concerned, the answer is most definitely yes. Of course, the bride no longer wears a wedding dress for the rehearsal dinner, but a white dress for the rehearsal dinner is a very good choice. More often than not, it is already a little less festive, but can still retain elements of an evening dress. The situation is different for the guests. After all, this is a celebration of the bride and groom, and the bride at this time should not only stand out, but also feel the most important. It is therefore safer to choose dresses in a different colour for the bridal party. Then we will know that we won't accidentally make the bride uncomfortable or commit a faux-pas.