Simple wedding dresses
Simple wedding dresses are timeless models that will never go out of fashion. More and more brides are just opting for minimalist proposals - a modest style and.. read more a small number of accessories is the ideal way to ensure elegance and chic on this extremely important day. In addition, such a choice will allow you to efficiently emphasize your natural beauty. If you are looking for a simple and striking wedding dress, check out the offer of the Kulunove store and bet on style combined with quality!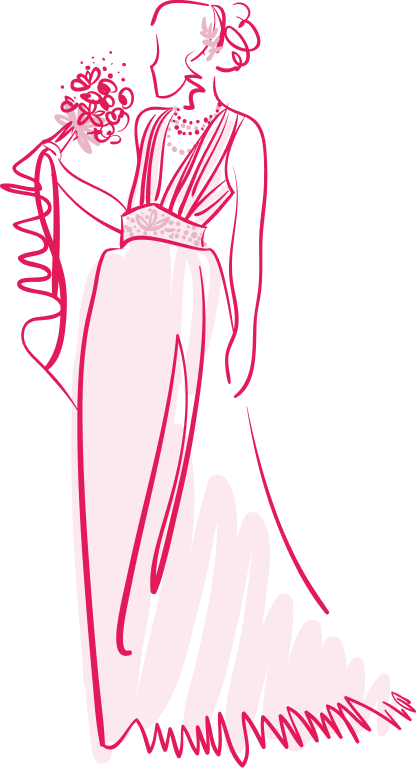 What do straight wedding dresses look like?
Straight wedding dresses, otherwise known as cigars or columns, will be a versatile option for a wedding in any climate. They will be great for both a modest, small party and a lavish, opulent wedding.Straight gowns are characterized by an even width along the entire length. Usually in these minimalist models, a leg slit is encountered to increase the comfort and freedom of movement of the bride. It is also worth betting on a clear cut-off at the waist or a slightly open back, which will add class to the whole styling. Simple wedding dresses are a proven and comfortable choice, which can be freely modified with appropriately selected accessories.... read more
Simple wedding dresses - what to keep in mind and what figure will be suitable for?
Modest wedding dresses will look best on relatively slim women with an hourglass figure. This is a rather specific cut, which in the case of extra pounds can accentuate unwanted features of the figure. Therefore, models in this category are mainly aimed at women with a petite build - both tall and short.
How to choose the right model?
Minimalist wedding dresses do not have to be boring and tacky at all! Opt for proposals made of stylish lace, a striking "V" neckline, a clearly marked waist, an open back or flowing fabric that will emphasize your beauty and give delicacy to the dress. You can also opt for a modest gown with a train - an extremely elegant and fashionable option. For minimalist wedding dresses, the best choice will be high, classic stilettos, which will optically lengthen the leg and add chic styling.
Simple wedding dresses at Kulunove
In the Kulunove online store you will find simple wedding dresses plain, with lace, minimalist designs and creations made of airy, sensual material. Every bride will buy her dream gown from us in any size and style. You can also find dresses for your bridesmaid, mother or sister. We offer a wide selection of high quality creations that are sure to impress all wedding guests.