Dresses for bridesmaids and witnesses
The wedding is a big event in the life of not only the bride and groom, but also all relatives and friends. On that day.. read more, everyone wants to feel beautiful, and in addition to the bride, most eyes focus on the maid of honor and bridesmaids who accompany her. Their dresses must be sewn with attention to every detail and tailored to their figures so that they feel comfortable and look elegant.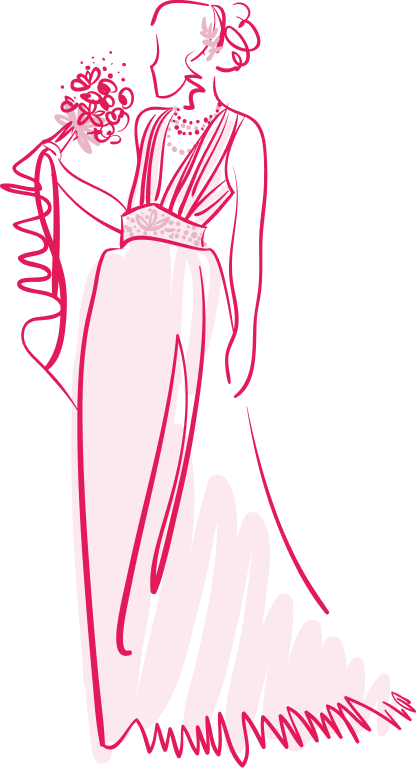 Exclusive dresses for wedding and reception
A wedding is an event where all the gathered guests should look elegant and neat. This day is characterized by exceptional class and refinement, which should be evident from the wedding guests' outfits.Particularly important is the selection of an appropriate dress for the maid of honor. The person performing this function practically spends the entire evening in the immediate company of the bride and appears in most of the photos.... read more
An elegant dress for the maid of honor is so important because the woman wearing it is close to the bride, sits with the bride and groom at the table during the wedding and is indirectly constantly in the spotlight. If you have been asked to perform this honorable function at a wedding, you certainly want to look your best.
Wedding dresses for every woman
At Kulunove you will find wedding dresses and bridesmaid dresses in which you will feel comfortable and attractive no matter what function you perform at the wedding. Many sizes, cuts and colors are available, so you are sure to find a model that matches both the style of the wedding hall and your personal tastes.
Affordable bridesmaid dresses are particularly desirable, since often the bride would like all her bridesmaids to have identical creations. Low prices make it possible to purchase bridesmaid dresses without incurring huge costs. The wedding is a stressful day for most people who are close to the bride and groom, and limiting expenses saves a lot of nerves.
A beautiful look and a keepsake for years to come
A wedding and reception is often an event that begins early in the day and ends only in the morning. An uncomfortable and ill-fitting dress that accentuates various flaws can prevent a good time. Instead of dancing all night and posing for photos, you won't feel like getting up from the table. Therefore, browse through Kulunove's offer and find a dress that will give you confidence and highlight all your assets.
During the wedding there is usually a photographer present, who meticulously documents the entire night. The photos taken by him are a keepsake for years to come, and looking at them after a long time we should continue to marvel at the beauty of the day. The long dresses for the bridesmaids and the elegant wedding dress of the bride add class to the photos and make you remember this important event with a tear in your eye even years later.
Fast shipping and low prices at Kulunove
The first step in choosing a creation, whether it is to be a casual dress or a dress for a maid of honor, should be to choose a cut. Mermaid, princess, etui and many other cuts are available at Kulunove. After choosing the style, design and color, all you need to do is order your dream model and wait for delivery.
At Kulunove, our dresses are already ready for shipment, so you can be sure that the ordered creation will reach you on time. You don't have to stress about not having the dress of your choice on the important day.